Conference Venue
Freie Universität Berlin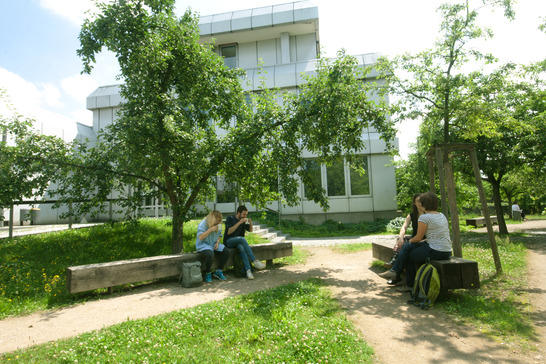 Orchard outside the Seminarzentrum of Freie Universität Berlin; Image Credit: Jonah Landkau
Freie Universität is located in the southwest of Berlin, in the garden district Dahlem. Within easy reach of the city centre, the surroundings of the university provide a calm and relaxing environment. The largest building of the campus, the so-called Rost- und Silberlaube is a 100.000 m2 network of hallways, offices, lecture theatres and seminar rooms with small courtyards, rooftop terraces, cafés and a restaurant. It houses the new Philological Library, designed by Sir Norman Foster, an architectural gem nicknamed the "Berlin Brain" due to its shape. 
RaAM 11 will take place in the newly created "Seminarzentrum" (seminar centre) in the main building, a space especially designed for conferences. Its modern conference rooms open to a small orchard, thus providing space for concentrated discussion and relaxed exchange.
Venue

Silberlaube (ground floor)

Otto-von-Simson-Str. 26

14195 Berlin-Dahlem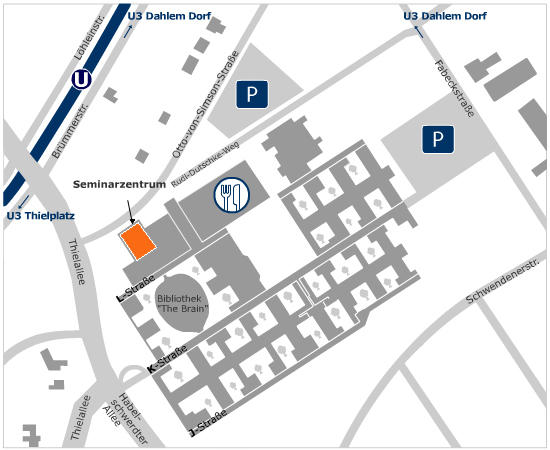 Getting there
U-Bahn (underground train)
The easiest and fastest way is to take the U3 to Dahlem Dorf. The walk from the station to the university is about 5-10 minutes.
S-Bahn (overground train)
Take the S1 to Lichterfelde West and then either walk up Habelschwerdter Allee (15 - 20 minutes) or take the Bus M 11 to Hittorfstr.
Bus
Take the bus M 11 to Hittorfstr. or the X 83 to Dahlem Dorf.
<iframe src="https://www.google.com/maps/embed?pb=!1m25!1m8!1m3!1d9725.238008082479!2d13.291907000000002!3d52.455422000000006!3m2!1i1024!2i768!4f13.1!4m14!1i0!3e2!4m5!1s0x47a85a6ddcd06e83%3A0x985e7cf8227a4b4a!2sU+Dahlem-Dorf+(Berlin)%2C+Deutschland!3m2!1d52.457695!2d13.290011!4m5!1s0x47a85a6c1c4e9031%3A0x86fcca6b34c71a58!2sOtto-von-Simson-Stra%C3%9Fe+26%2C+14195+Berlin%2C+Deutschland!3m2!1d52.452992699999996!2d13.287854099999999!5e0!3m2!1sde!2sde!4v1429295298158" width="600" height="450" frameborder="0" style="border:0"></iframe>